Blog
5 Ways to Prepare Your Car for a Safe and Secure Pacific Northwest Spring Break Trip This Year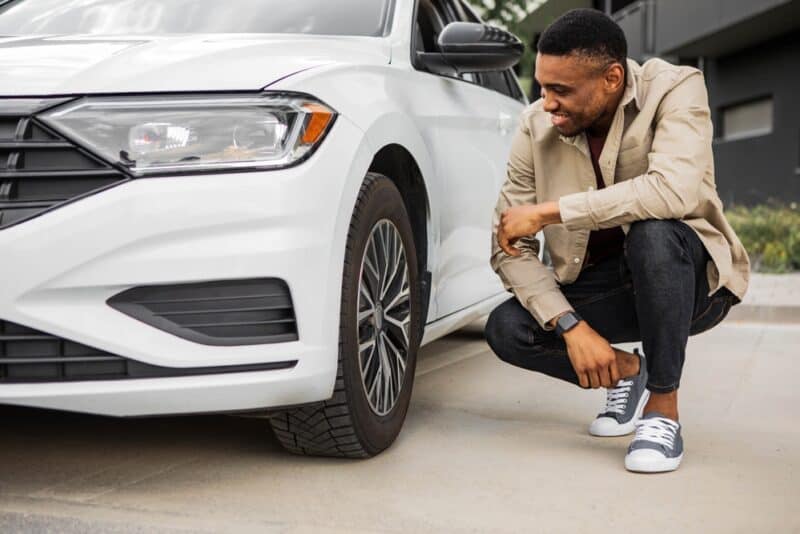 Whatever form your spring break in the Pacific Northwest takes — whether it's packing as many young friends in a motel room as will fit, a romantic outing for two, or you and the kids on an adventure they'll never forget — hit the road safely. Make sure you have the proper auto insurance and prep your ride before your travels in the following ways.
1. The Right Tire Pressure Equals Safety
The cold weather of the typical PNW winter puts your car's tires through a workout. They deflate during colder times, so it's likely you've been inflating them during the months just ending. That's fine, except that the warmer temperature you're now starting to experience makes the air in your tires further expand.
The risk is that they're now overinflated. If that's the case, it can result in premature wear and your tires not gripping the road as well as they should. This is a safety risk for your car in Washington.
Wheels can also be more easily damaged by the new season's inevitable potholes. So make sure you know the ideal tire pressure for your tires, and get them as close to that ideal as possible before your spring break adventures.
2. Speaking of Potholes, Keep an Eye Peeled
The PNW winter's constant freezing and thawing action plays havoc and causes potholes on the region's streets and highways. You can only imagine what crashing into such a crater at 40 miles an hour can do to your car's tires, suspension, and alignment.
You can't do much about seasonal driving hazards in Washington, including the inevitable presence of such craters this time of year, but you can drive carefully, keep your eyes on the road, and do all you can to steer around the potholes whenever it's safe to do so. Take your vehicle in to get your alignment and springs checked before setting out on your travels, too.
3. Check Your Car's Belts and Hoses
This is something you can do yourself, or ask your mechanic to do so while testing your alignment. Belts and hoses can get brittle during Washington's cold months, and that can make them hard and inflexible. This, in turn, increases the likelihood of them cracking and breaking when you need them most.
Are they stiff to the touch? Do you feel cracks? Have them checked out by a certified professional to be on the safe side.
4. Change Your Car's Filters
Again, this is something you can do yourself. Use your auto manual or take a peek at an online video to find out where your engine and cabin filters are located and see what they look like. If they're blackened and full of debris, it's time for a change before your spring travels.
Better yet, assume the worst. You should change your engine's air filter every 15,000 to 30,000 miles. For most drivers, that means once a year — and the spring is as good a time as any. For one thing, it's easier to tinker around under your hood as the weather warms than during the year's coldest months. So make it an annual inspection.
While this is a fairly quick and simple do-it-yourself project, much of what we've outlined so far in terms of prepping your automobile for a potentially long spring ride can just as easily involve one scheduled trip to a service garage. It might cost you a few bucks and be inconvenient to be without your ride for a few hours, but it will definitely make you feel more confident about hitting the road for spring break. You'll feel like you've lowered your risk of ending up stranded on the shoulder of said road in unfamiliar surroundings.
5. Just in Case, Have Roadside Assistance in Washington
Roadside assistance is an add-on auto insurance benefit that can pay for itself with just one mishap. It's a guarantee of a 24/7 rescue by a competent automotive technician who'll bring whatever type of help you need – or give you a tow, if necessary.
Pick up your phone and dial roadside assistance for a battery charge, a couple of gallons for a dry gas tank, a tire change, locksmith services if you've locked yourself out of your car, or a tow to a nearby garage.
The point is, all you have to do is call the number given any time of the day or night, weekends and holidays included, and explain your problem. You'll get the help you need, whether you're stranded on the busiest freeway or the most severe and forlorn PNW mountain pass.
No matter how responsible you've been in terms of preparing your auto for the just-ended winter and your upcoming spring adventures, you can't foresee everything that can go wrong. That's why roadside assistance is a must-have before you put on serious mileage.
The benefits can be even more important if you have a family with young drivers. Think of your teen on the road late at night with a flat tire. You'll feel much better about your young driver if you've first had a chat with your car insurance agent about roadside assistance.
Your independent car insurance agent can also make sure you have the full benefits of coverage — comprehensive and collision — before you set off on your spring break travels.
Doing business with an independent agent is important because they have access to multiple lines of insurance from major carriers. That means your agent can go shopping for the best and most affordable auto insurance products of all kinds from a selection of brands you trust.
Get Affordable Car Insurance in Washington Before Your Spring Trip
At Vern Fonk Insurance, our independent agents can show you multiple affordable car insurance plans with roadside assistance. Call us at (800) 455-8276 or go online for a quick quote. You can also find a Vern Fonk office in the Pacific Northwest near you.