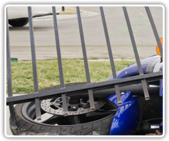 Click Here For
A Motorcycle
Insurance Quote
At Vern Fonk, we know there's nothing like the open road. Take to the road with confidence knowing you are fully protected with Vern Fonk Oregon motorcycle insurance or Washington motorcycle insurance!
With a motorcycle insurance policy from Vern Fonk, you can choose from many options designed to protect both you the rider and your bike. Vern Fonk motorcycle insurance policies can be customized specifically to your needs to include things such as comprehensive and collision coverage, liability coverage including bodily injury and property damage protection, as well as roadside assistance, and many more!
At Vern Fonk, there's motorcycle insurance coverage for almost all types of bikes. So, if you're looking for coverage for scooters, motocross, mopeds, trikes, or any other
factory-built two or three-wheeled vehicle, you've come to the right place. Build a customized policy today and find the coverage you need to cover your specific motorcycle insurance requirements.
We Know the Washington Motorcycle Insurance Laws
While motorcycle liability insurance is not required in Washington, it's still a good idea to look into covering yourself and others in case of an accident. This is especially true if you have a home or other assets to protect.
Consider purchasing the same minimum amount of liability as for cars:
$25,000 for bodily injury/death of one person per accident.
$50,000 for bodily injury/death of two people per accident.
$10,000 for injury or property destruction per accident.
If you decide to buy motorcycle insurance, carry the insurance card with you in case you get into an accident. That way, you'll have all the information you need (policy number, phone numbers, etc.) to exchange with the other party.
We Know the Oregon Motorcycle Insurance Laws
Liability insurance is required in amounts of this much or more:
o $25,000/person: bodily and property damage.
o $10,000/crash: property damage to another party.
o $50,000/crash: bodily injury to another party.
o $25,000/person and $50,000 per crash of Uninsured Motorist Coverage.
o $15,000: Personal Injury Protection (PIP) insurance, covering accident-related costs.
When must you register and insure your two (or sometimes three) wheeled vehicle? Basically, if you can go 30 mph, you will have to carry insurance.
o Mopeds are defined as having two or three wheels, can be propelled by pedals, cannot go over 30 mph, and have an engine that is not more powerful than 50 ccs.
o All other cycles with more powerful engines and no pedals, including motor scooters, are classified as motorcycles (like Vespas).
These motor-propelled vehicles are exempt from registration and insurance:
o Pocket bikes and mini-motorcycles.
o Electric assisted bicycles. These are less powerful than 1,000 watts and can't travel more than 20 MPH.
o Electric personal mobility devices. These have two wheels, an electric motor, and transports one standing person (like Segways).
o Motor-assisted scooters. These have two or three wheels, a limit of 24 mph, and an engine that is 35 ccs or less or is less than 1,000 watts (for electric).
o Snowmobiles and tractors.
Contact Vern Fonk for Washington Motorcycle Insurance or Oregon Motorcycle
Insurance Today
Whether you need motorcycle insurance, auto insurance, homeowner's insurance or business insurance in Washington or
Oregon, call Vern Fonk at 800-654-SR22 NOW or get an online quote. Because motorcycle accidents can be catastrophic,
we'll want to make sure you and your bike are protected.
In Washington and Oregon, Vern Fonk has insurance offices in Aberdeen, Bellevue, Bellingham, Federal Way, Kent, Kirkland,
Lacey/Olympia, Lynwood, Mt. Vernon/Burlington, Oak Harbor, Port Angeles, Portland, Seattle, Silverdale, Spokane, Tacoma,
Vancouver, Wenatchee, and Yakima.