Blog
Winter Driving
From Thanksgiving to New Years, chances are you're probably doing some kind of travel. 91% of all holiday travelers are using their personal vehicle to get to grandma's house. This year, the weather across the nation is supposed to be unpredictable and extreme. Keeping yourself and your family safe during this journey can be easy if you prepare beforehand and drive safely.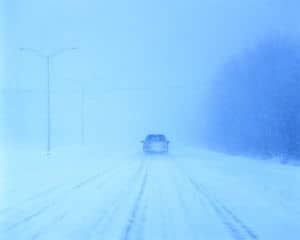 Before you head out, take your car in for a quick visit to the mechanic. No one wants to get caught stranded along a lone and snowy road. Get your battery checked, antifreeze levels refilled, make sure your thermostat works, and check your defroster. Colder weather makes life more challenging for your battery. Make sure it's all juiced up and working properly. Antifreeze helps regulate the temperature of your engine, and in extreme cold weather, it keeps your engine from freezing and locking up. Keep an eye on the antifreeze levels and top it off before you leave. Get your oil changed if needed and check your tire pressure.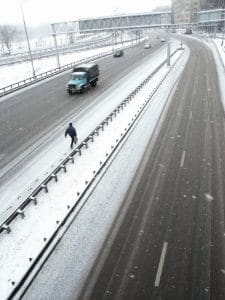 In snow covered roads, having properly working breaks is a must. Check your brakes and make sure they are properly installed and working. Good brakes make stopping on snowy roads and ice a lot easier. Also, make sure your tires still have enough tread on them, and if you can afford it, buy snow tires.
Make sure you know where you're going. This one may seem like a no brainer, but knowing your route can save you money and time. Gas used from circling around and around can add up. Print out directions even if you have a navigation system on your phone, you never know when service may be out or if your battery dies. Avoid high traffic areas or maybe leave earlier or later than most people to reduce stress.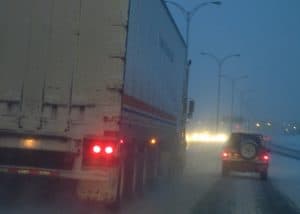 Even if you feel confident and experienced while driving in less than perfect conditions, you need to remember that other drivers may not be so sure of themselves. Increase your following distance and make sure you clear off all of your windows from snow and ice. Most experts recommend keeping a following distance of 10 seconds from the car ahead of you. This should allow you enough time to stop on snowy and icy roads. The best thing you can do is slow down when you suspect there to be any ice on the road.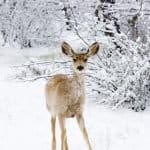 Be prepared for the worst. Your car could break down, you could hit a deer, or someone could hit you. You won't know what will happen until it does. Try to keep your fuel take over half full always, so that you'll have enough fuel to get you somewhere if you get stranded or to keep your heat going if you're stuck. Keep an emergency kit in the car at all times. Make sure there is a warm blanket in there as well as water. If you get caught in a blizzard, the best thing you can do is stay in your car. Other cars won't be able to see you through the snow, and you could get hit. Rescuers can find a stranded car better than a lone person wandering around in the snow.
Get prepared this holiday season before you head out. If you have the option to stay home, do it. Remember to be safe and to not push the limits.