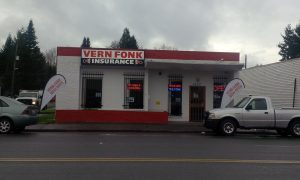 You're probably paying too much for car insurance and don't know it. That's why you need to check out the most affordable auto insurance quotes in Seattle, Washington from Vern Fonk Insurance. If you're shopping for auto, SR-22, 4×4, boat, motorhome, general liability insurance – as well as renters, homeowners, or business insurance – the licensed agents and customer service reps at Vern Fonk Insurance ensure you'll be provided with the insurance you want at the lowest rates possible.
Vern Fonk Insurance has been loyally serving the many insurance needs of our policyholders for over 50 years. Why not join the thousands of satisfied customers who have made the switch to Vern Fonk Insurance and discovered the savings and quality service? We're located across from McClendon Hardware between Kiet's Auto Body and White Center Pizza and Spaghetti House in Seattle. Visit our office at 10237 16th Ave. SW, Seattle, Washington 98146 or give us a call and start saving on your insurance!
Vern Fonk Insurance
West Seattle
Address: 10237 16th AVE SW
Seattle, Washington 98146
Phone: (206) 408-5084
Fax: (206) 582-0511
Email: jose_t@vernfonk.com
Commercial Auto Insurance
Commercial Truck Insurance
General Liability Insurance
Contractor's Insurance
Rental Property Insurance
Renter's Insurance
Vacant property insurance
Boat Insurance
ATV & 4×4 Insurance
Motorhome Insurance
Power Sports Vehicle Insurance
homeowner's insurance
business insurance
Monday
08:30 AM TO 06:30 PM
Tuesday
08:30 AM TO 06:30 PM
Wednesday
08:30 AM TO 06:30 PM
Thursday
08:30 AM TO 06:30 PM
Friday
08:30 AM TO 06:30 PM
Saturday
09:00 AM TO 04:00 PM
Additional
Locations
For All Vern Fonk
Locations in WA & OR
Our West Seattle WA location proudly serves the Greater West Seattle WA area including: White Center, Burien, Gatewood, Delridge, and West Seattle Washington.