Blog
Homeowner's Liability Coverage
Is your home properly insured for summer fun? As the sun comes out many homeowners start inviting people over for bbqs and fun activities at their homes. Nearly all summertime outdoor activities increase the risk of an accident, and if that accident happens on your property, you may be liable for the medical and legal fees.
That's where your homeowners insurance policy comes in. Most people know that their homeowner's insurance policy covers them if there is a covered natural disaster, fire or theft, but don't really understand the liability coverage it also offers. Legal and medical fees from an accident can really add up, and it's important to have adequate coverage on your home.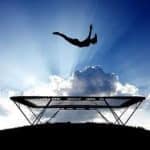 If your home is near a body of water, has a pool or trampoline, it may be wise to increase your liability coverage on your home insurance policy. Pools and trampolines can be extememly fun for your family but they come with their own dangers. Check with your insurance company to make sure you'd be covered from an accident involving your backyard pool or trampoline.
Call an agent today to make sure you're prepared for all that summer has to offer. Our expert homeowner's insurance agents in Washington and Oregon are standing by ready to help you find the right policy for your home and your family.