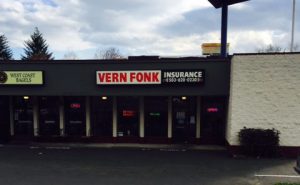 Don't get caught paying too much for car insurance, especially when you can find the most affordable auto insurance rates in Tigard, Oregon from Vern Fonk Insurance. Whether you're shopping for auto insurance, renters insurance, homeowners insurance as well as boat, RV – even SR-22, and commercial truck insurance – our friendly staff of licensed agents at Vern Fonk Insurance is ready to provide you with the type of insurance you want at the best rates possible.
After five decades in the insurance business, Vern Fonk Insurance knows how important savings, loyalty, and quality service are to hard-working Oregon residents. Come join the thousands of satisfied customers who have discovered what savings are all about by switching to Vern Fonk Insurance. We're conveniently located at the corner of SW Greenburg Rd. and SW Shady Ln., next to West Coast Bagels in Tigard. Visit our office at 9804 SW Shady Ln., Tigard, Oregon 97223 or call us and start saving on your insurance today!
Vern Fonk Insurance
Tigard
Address: 9804 SW Shady Ln
Tigard, Oregon 97223
Phone: (971) 213-1013
Fax: (503) 620-7856
Email: rosym@vernfonk.com
Commercial Auto Insurance
Commercial Truck Insurance
General Liability Insurance
Contractor's Insurance
Rental Property Insurance
Renter's Insurance
Vacant property insurance
Boat Insurance
ATV & 4×4 Insurance
Motorhome Insurance
Power Sports Vehicle Insurance
homeowner's insurance
business insurance
Monday
08:30 AM TO 06:30 PM
Tuesday
08:30 AM TO 06:30 PM
Wednesday
08:30 AM TO 06:30 PM
Thursday
08:30 AM TO 06:30 PM
Friday
08:30 AM TO 06:30 PM
Saturday
09:00 AM TO 04:00 PM
Additional
Locations
For All Vern Fonk
Locations in WA & OR
Our Tigard Oregon location services the Greater Tigard/Beaverton Oregon area including: Tigard, Beaverton, Aloha, Hillsboro, Cedar Hills, and Cedar Mill Oregon.
Vern Fonk in Tigard, OR offers auto insurance, sr22 insurance, Commercial Auto Insurance, Boat insurance, Renters insurance, Homeowners Insurance, Condo/Co-op Insurance, RV insurance, Motorcycle insurance, Flood insurance, Umbrella insurance, ATV insurance, and Mobile Home insurance . Call today to see how we can save you up to 40%.