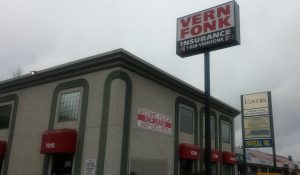 If you're being told there's nothing you can do about paying such high car insurance rates – don't believe it! Chances are you can – by checking out the most affordable auto insurance rate quotes in Tacoma, Washington from Vern Fonk Insurance. We'll show you how comparing your auto, SR-22, 4×4, boat or RV – even renters, homeowners, business, and contractor insurance at no charge or obligation can save you money. Vern Fonk Insurance will guide you every step of the way towards the lowest rates possible.
Vern Fonk Insurance has been in business since 1952, building a well-earned reputation for saving their clients money – and, not giving them the runaround. If you've been running around in circles – come join the many satisfied customers who have switched to Vern Fonk Insurance. We're located off Interstate 5 directly in front of Home Depot in Tacoma. Visit our office at 7018 Tacoma Mall Blvd., Tacoma, Washington 98409 or call us and start saving on your insurance today!
Vern Fonk Insurance
Tacoma
Address:7018 Tacoma Mall BLVD
Tacoma, Washington 98409
Phone:(253) 943-2210
Fax: (253) 588-6329
Email: craig@vernfonk.com
Commercial Auto Insurance
Commercial Truck Insurance
General Liability Insurance
Contractor's Insurance
Rental Property Insurance
Renter's Insurance
Vacant property insurance
Boat Insurance
ATV & 4×4 Insurance
Motorhome Insurance
Power Sports Vehicle Insurance
homeowner's insurance
business insurance
Monday
08:30 AM TO 06:30 PM
Tuesday
08:30 AM TO 06:30 PM
Wednesday
08:30 AM TO 06:30 PM
Thursday
08:30 AM TO 06:30 PM
Friday
08:30 AM TO 06:30 PM
Saturday
09:00 AM TO 04:00 PM
Additional
Locations
For All Vern Fonk
Locations in WA & OR
Our Tacoma WA auto insurance agency location proudly serves the Greater Tacoma WA area including: Tacoma, Federal Way, Spanaway, Auburn, Fife, Kent and Edgewood Washington.
Offering auto insurance, sr22 insurance, Commercial Auto Insurance, Boat insurance, Renters insurance, Homeowners Insurance, Condo/Co-op Insurance, RV insurance, Motorcycle insurance, Flood insurance, Umbrella insurance, ATV insurance, and Mobile Home insurance, we excel in providing our customers the perfect insurance policy that fits both their needs and their budgets.