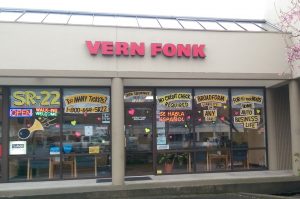 Stop losing sleep over high car insurance rates! It's time to wake up to the most affordable auto insurance quotes in Kirkland, Washington from Vern Fonk Insurance. Whether you need auto insurance, renters insurance, SR-22 insurance, homeowners insurance, or motorhome and boat insurance, you can do it at no cost or obligation. Let Vern Fonk Insurance find you the type of coverage you want at the best rates possible.
Vern Fonk Insurance has been serving Washington State residents for over 50 years while protecting their families, businesses, and property at the lowest rates available. Today's the day you go from your high auto insurance nightmare to saving money by joining the thousands of satisfied customers who have already made the move to Vern Fonk Insurance. We're conveniently located next to Totem Lake and across from the Totem Lake Mall in Kirkland. Stop by our office at 12535 Totem Lake Blvd NE, Kirkland, Washington 98034 or call us and start saving on your insurance today!
Vern Fonk Insurance
Kirkland
Address: 12535 Totem Lake Blvd NE
Kirkland, Washington 98034
Phone: (425) 434-4028
Fax: (425) 821-6043
Email: chris@vernfonk.com
Commercial Auto Insurance
Commercial Truck Insurance
General Liability Insurance
Contractor's Insurance
Rental Property Insurance
Renter's Insurance
Vacant property insurance
Boat Insurance
ATV & 4×4 Insurance
Motorhome Insurance
Power Sports Vehicle Insurance
homeowner's insurance
business insurance
Monday
08:30 AM TO 06:30 PM
Tuesday
08:30 AM TO 06:30 PM
Wednesday
08:30 AM TO 06:30 PM
Thursday
08:30 AM TO 06:30 PM
Friday
08:30 AM TO 06:30 PM
Saturday
09:00 AM TO 04:00 PM
Additional
Locations
For All Vern Fonk
Locations in WA & OR
Our Kirkland WA location proudly serves the Greater Kirkland / Kirkland WA area including: Kirkland, Bellevue, Redmond, Bothell, Woodinville, and Issaquah Washington.