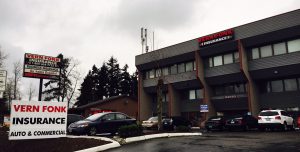 Paying too much for car insurance? Why not check out the most affordable auto insurance quotes in Kent, Washington from Vern Fonk Insurance – and stop wasting money? Our friendly staff of licensed agents takes pride in ensuring our clients get the coverages they want – from auto insurance to renters insurance – SR-22 insurance to homeowners insurance – motorhome, watercraft – even business and contractors insurance. No matter what type of coverage you need, let Vern Fonk Insurance provide it for you at the best rates possible.
By choosing Vern Fonk Insurance, you'll be joining the thousands of satisfied customers who have made the move to savings. Isn't it time you make the switch to Vern Fonk Insurance? We're conveniently located near the corner of Pacific Hwy S. and S. 240th St. across from Highline Community College in Kent. Visit our office at 23830 Pacific Hwy S. Ste. 104, Kent, Washington 98032 or give us a call and start saving on your insurance today!
Vern Fonk Insurance
Kent
Address: 23830 Pacific Hwy S Ste 104
Kent, Washington 98032
P: (253) 943-2209
F: (206) 824-4836
E: nicoleking@vernfonk.com
Commercial Auto Insurance
Commercial Truck Insurance
General Liability Insurance
Contractor's Insurance
Rental Property Insurance
Renter's Insurance
Vacant property insurance
Boat Insurance
ATV & 4×4 Insurance
Motorhome Insurance
Power Sports Vehicle Insurance
homeowner's insurance
business insurance
Monday
08:30 AM TO 06:30 PM
Tuesday
08:30 AM TO 06:30 PM
Wednesday
08:30 AM TO 06:30 PM
Thursday
08:30 AM TO 06:30 PM
Friday
08:30 AM TO 06:30 PM
Saturday
09:00 AM TO 04:00 PM
Additional
Locations
For All Vern Fonk
Locations in WA & OR
Our Kent WA location proudly serves the Greater Kent / Kent WA area including: Kent, Covington, Federal Way, Auburn, Maple Valley, and Des Moines Washington.
This branch offers auto insurance, sr22 insurance, home, business and more to our customers in the greater Kent area.