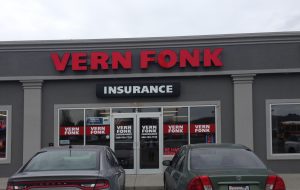 Stop wishing for lower car insurance rates – and do something about them. Take the first step to making your wish come true by getting the most affordable auto insurance quotes in Kennewick, Washington from Vern Fonk Insurance. You can quickly compare auto insurance, SR-22 insurance, commercial vehicle insurance – even renters and homeowners insurance at no cost. Let the experts at Vern Fonk Insurance help you find the right coverage for all your insurance needs at the best possible rates.
The reason Vern Fonk Insurance has been in business for over 50 years and still growing is because we know the importance of giving hard-working Washington residents what they want – quality service, loyalty, and savings. Stop wishing for lower rates and switch to Vern Fonk Insurance. We're located between Boost Mobile and Yummie Pho across from McDonald's in Kennewick. Call or stop by our office at 7520 W. Clearwater Ave. Ste. C, Kennewick, Washington 93364 and start saving on your insurance today!
Vern Fonk Insurance
Kennewick
Address: 7520 West Clearwater Ave Ste C
Kennewick, Washington 99336
Phone: (509) 281-7001
Fax: (509) 783-7725
Email: walter@vernfonk.com
Commercial Auto Insurance
Commercial Truck Insurance
General Liability Insurance
Contractor's Insurance
Rental Property Insurance
Renter's Insurance
Vacant property insurance
Boat Insurance
ATV & 4×4 Insurance
Motorhome Insurance
Power Sports Vehicle Insurance
homeowner's insurance
business insurance
Monday
08:30 AM TO 06:30 PM
Tuesday
08:30 AM TO 06:30 PM
Wednesday
08:30 AM TO 06:30 PM
Thursday
08:30 AM TO 06:30 PM
Friday
08:30 AM TO 06:30 PM
Saturday
09:00 AM TO 04:00 PM
Additional
Locations
For All Vern Fonk
Locations in WA & OR
Our Kennewick WA location proudly serves the Greater Kennewick WA area including: Kennewick, Pasco, Richland, Walla Walla, and Tri-Cities Washington.