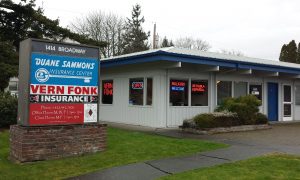 Is your insurance company taking advantage of you by charging you more for your car insurance? Maybe NOW would be a good time to do something about it with the most affordable auto insurance quotes in Bellingham, Washington from Vern Fonk Insurance. Simply compare your auto, SR-22, 4×4, renters or homeowners insurance – even motorhome, business and contractor insurance at no charge – and you'll see the savings. Our licensed agents at Vern Fonk Insurance are ready to provide you with the type of coverage you want at the best rates possible.
Vern Fonk Insurance understands that savings, quality service, and loyalty are important to our policyholders. If you're not getting the level of service that's made thousands of people move to Vern Fonk Insurance, it's time to switch. We're conveniently located near Elizabeth Park across from the Slavic Baptist Church in Bellingham. Call us or visit our office at 1414 Broadway, Bellingham, Washington 98225 and start saving on your insurance today!
Vern Fonk Insurance
Bellingham
Address: 1414 Broadway, Suite C
Bellingham, Washington 98225
Phone: (360) 686-6071
Fax: (360) 715-0390
Email: markf@vernfonk.com
Commercial Auto Insurance
Commercial Truck Insurance
General Liability Insurance
Contractor's Insurance
Rental Property Insurance
Renter's Insurance
Vacant property insurance
Boat Insurance
ATV & 4×4 Insurance
Motorhome Insurance
Power Sports Vehicle Insurance
homeowner's insurance
business insurance
Monday
08:30 AM TO 06:30 PM
Tuesday
08:30 AM TO 06:30 PM
Wednesday
08:30 AM TO 06:30 PM
Thursday
08:30 AM TO 06:30 PM
Friday
08:30 AM TO 06:30 PM
Saturday
09:00 AM TO 04:00 PM
Additional
Locations
For All Vern Fonk
Locations in WA & OR
Our Bellingham WA location proudly serves the Greater Bellingham WA area including: Ferndale, Marrietta-Alderwood, Lummi Island, Sudden Valley, and Whatcom County Washington.