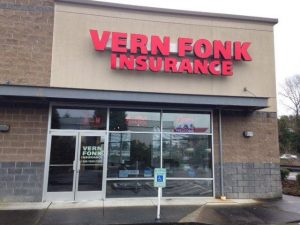 The days of paying too much for auto insurance are over. Once you learn about the most affordable auto insurance rates in Bellevue, Washington from Vern Fonk Insurance, you'll put an end to those high rates. Simply compare your auto insurance, high-risk SR-22 insurance, 4×4 insurance or coverage for your motorhome, boat – even business, renters and homeowners insurance. At Vern Fonk Insurance our licensed agents are ready to provide you with the right coverage at the best rates possible.
Since 1952, Vern Fonk Insurance has continued to give hard-working people what they want – quality service, extensive insurance knowledge, and the most protection at the lowest available cost. Take advantage of the savings – by switching to Vern Fonk Insurance. We're located off Interstate 90 – across from the Eastgate Plaza and O'Reilly Auto Parts in Bellevue. Call or stop by our office at 15350 SE 37th St. Ste. A, Bellevue, Washington 98006 and start saving on your insurance today!
Vern Fonk Insurance
Bellevue
Address: 15350 SE 37th St Ste A
Bellevue, Washington 98006
Phone: (425) 434-4025
Fax: (425) 245-9296
Email: kevinc@vernfonk.com
Commercial Auto Insurance
Commercial Truck Insurance
General Liability Insurance
Contractor's Insurance
Rental Property Insurance
Renter's Insurance
Vacant property insurance
Boat Insurance
ATV & 4×4 Insurance
Motorhome Insurance
Power Sports Vehicle Insurance
homeowner's insurance
business insurance
Monday
08:30 AM TO 06:30 PM
Tuesday
08:30 AM TO 06:30 PM
Wednesday
08:30 AM TO 06:30 PM
Thursday
08:30 AM TO 06:30 PM
Friday
08:30 AM TO 06:30 PM
Saturday
09:00 AM TO 04:00 PM
Additional
Locations
For All Vern Fonk
Locations in WA & OR
Our Bellevue WA location proudly serves the Greater Bellevue / Eastside WA area including: Bellevue, Kirkland, Clyde Hill, Medina, Newcastle, Crossroads, Lake Hills and Redmond Washington.